IMPILO PLASTIC SURGERY AND MEDICAL SPA apunta a la provisión de la tecnología más sofisticada y soluciones para sus pacientes, y se compromete a ofrecer todas las opciones e información médica disponible.Las cirugías se realizan en el Hospital Johns Hopkins Afilliated Punta Pacífica, Hospital San Fernando o el Centro Médico Paitilla.Luego de terminar su formación en Montreal, el Dr. Picard se mudó a Miami, donde trabajó durante 10 años. Allí fundó y dirigió el Instituto de Cirugía Plástica de Miami. Al volver a Ciudad de Panamá, Panamá en el 2000, fundó el IMPILO PLASTIC SURGERY AND MEDICAL SPA, donde actualmente es el director médico.Siempre esforzándose por amplicar su conocimiento y práctica en la ciencia de los tratamientos cosméticos, el Dr. Picard realizó un postgrado en Cirugía Cosmética, Microcirugía, cirugía de Craneo y Maxilofacial.Actualmente, está certificado por el Consejo Americano de Cirugía Plástica y es Miembro del Colegio Americano de Cirujanos y el Real Colegio de Médicos y Cirujanos de Canadá en la sección de Cirugía Plástica.Es un miembro muy respetado de numerosas organizaciones internacionales, nacionales y locales de cirugía, tales como Operation Smile Panamá, Healing the Children y el Rotary Club.
...
Tratamientos populares
41 más tratamientos
Consultas disponibles en:
Español, inglés
Servicios Adicionales
Transportes al aeropuerto, reservas de hotel, transportes del hotel a la clínica.
Acreditaciones
Sociedad Americana de Cirujanos Plásticos
Evaluaciones de los Pacientes
My experience at IMPILO Plastic Surgery and Spa (in Panama City, Panama) far exceed my expectations. I first met Dr Luis A. Picard Ami in 2009 when he did a superb job on my breast reduction. Dr Picard-Ami is licensed to practice in USA and Panama, is fluent in English and Spanish, very accessible, down-to-earth, patient and so easy to communicate with. He promptly answered all my questions by e-mail and I mean ALL of my questions, including medical, logistical, covid and general. I was so impressed with his hospitality, professionalism, as well as my new beautiful breasts, I decided to return again in 2022 for a couple more procedures. I decided not to fear international travel as Covid is becoming more endemic and I am fully vaccinated. Another incentive was that the total cost of surgery, airfare and hotel, combined, was far less than I would have spent in the USA plus I was getting primo customer service. Additionally you can pay for everything in US dollars or with credit card. IMPILO Plastic surgery took care of coordinating all of my logistics from answering my pre-departure questions, meeting me upon arrival in Panama to checking into the hotel, getting my lab tests, to surgery and back again to my hotel room. I was traveling alone and was so happy when Dr Picard-Ami sent a nurse to see me in my hotel room to help with showering and dressing changes. I also had constant communications with everyone in IMPILO clinic, including the doctor, via WhatsApp, email and on my phone via Wi-Fi calling. The doctors, clinic, hospital and spa staff were all very approachable, kind, courteous, competent and professional while also very personable and welcoming. Most of the staff, I encountered, were bilingual too. The view from the doctor's office was incredible as was the panorama from the hotel pool area. The whole complex was pretty chilly so don't forget your cozy sweat suit and fuzzy socks! Fortunately, the hotel can reset your room temperature controls as you need. The free breakfasts were awesome with enough variety to tide you over for the entire day if you don't feel like going out. The rooms were well equipped for cooking and comfort. The hotel, clinic, hospital and doctors' office were very modern, clean and connected with the shopping mall, grocery store, pharmacy and everything you could need without even stepping outside. I had several different procedures during a 3 week period of time and am very pleased with Dr. L. Picard-Ami's surgical skill, felt well cared for, safe comfortable and secure. I almost hated to return home! Mary, Florida USA
21-Jan-2022
My breast implantation surgery was performed by Dr. Luis Picard-Ami Jr at the Panama Clinic. Process was fully explained in pre- surgery telephone consultations and in face to face consultation at the clinic. Dr. Luis Picard-Ami's expertise and experience as well as his approachable interpersonal skills, not only assisted me in choosing best option for me but also made me at ease throughout the whole process. His clinic is staffed with friendly and helpful personnel always ready to assist with anything you may need starting from beverage to booking hotel room and getting post op bra. Truly VIP experience
08-Dec-2020
I was very pleased with Dr. Picard-Ami and the cosmetic surgery he did on me five months ago. Dr. Picard-Ami was professional, very thorough from the first correspondence we had and extremely prompt in responding to any of my questions and concerns before and after surgery. My husband and I stayed at the Marriott which is located in the same complex as Dr. Picard-Ami's office is. His staff took care of every detail from transporting me to the clinic where only plastic surgery is done (no worry of being with any Covid patients), kept my husband informed of everything during and after my surgery and checked on me daily. Walking to their offices after the surgery for follow up appointments was easy and convenient. Having any procedure during a pandemic is scary but at no time was I apprehensive about the surgery. I highly recommend Dr. Picard-Ami and his staff if you are considering cosmetic surgery. I am absolutely thrilled with my results and it was as painless as they promised.
30-Nov-2020
14 más comentarios
Contactar Clínica
SELECCIONE UN TRATAMIENTO. OBTENGA UNA COTIZACIÓN GRATUITA.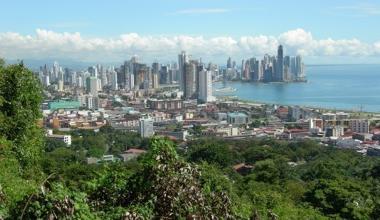 Panamá Tips de Viaje
Idioma: Spanish, English
Moneda: Panamanian Balboa (PAB), US Dollar (USD)
Clima: AVerage Daily Temp 90 F (30-33°C)
Capital: Panama City
Principales Aeropuertos: Tocumen International Airport (PTY)
Electricidad: 120V 60Hz
Zona Horaria: UTC-5
¿A dónde ir?
Esclusas de Miraflores es el lugar perfecto para sentarse en el puerto de la bahía y perder tiempo mientras observas los barcos colosales que pasan por las esclusas y se alejan navegando ante tus ojos. También presenta un espectacular museo donde puedes aprender sobre la historia del canal, ingeniería náutica, operaciones diarias y demandas del ambiente.
Gastronomía
El Restaurante Angel supera a todos los demás restaurantes de Ciudad de Panamá, decorado con antigüedades y arte original para complementar la experiencia de tu cena. El menú ofrece auténticos platos españoles tales como el Cordero Chilidon (cordero salteado con salsa de tomate) y conejo deshuesado (conejo con salsa de ajo).
¿Dónde dormir?
El Bristol está diseñado al estilo de las mansiones inglesas y ofrece servicios de alojamiento confortables y de clase. El hotel se caracteriza por su artístico amueblado, el cual se refleja en parqués impecables y grandes ventanas con vista al elegante vestíbulo.
Reservar un hotel en Ciudad de Panama, Panamá