"Estoy comprometido con la excelencia, utilizando únicamente los últimos avances científicos y tecnológicos en la restauración del cabello, asegurando resultados que van más allá de las expectativas del paciente." - Dr. Roberto
¿Está interesado en el trasplante de cabello en Guadalajara, México? en el Centro de Cirugía Plástica Elaen, le brindamos una cálida atmósfera que nos pone en un lugar especial en el mundo. El Centro de Cirugía Plástica Elaen en México se compone de apasionados y experimentados profesionales médicos, que buscan ayudarle a alcanzar sus ideales cosméticos y que siempre se esfuerzan para satisfacer las necesidades de cada paciente.
El moderno Centro de Cirugía Plástica Elaen atrae pacientes de todo el mundo gracias a su cirujano de trasplante de cabello de renombre mundial, Dr. Roberto. Su notable trabajo, pionero en la cirugía de trasplante de cabello se logra tanto por su habilidad artística, como por su capacidad técnica para lograr los resultados más naturales y abundantes posibles....
Tratamientos populares
Preguntar extracción de unidades foliculares
Preguntar Cirugía recuperacón capilar para la mujer
1 más tratamientos
Consultas disponibles en:
Inglés, Español
Servicios Adicionales
Asistencia con Alojamiento Local, Servicios de Traductor, Asistencia con Reservación de Vuelos.
Evaluaciones de los Pacientes
My FUE hair implant treatments with Dr. Roberto Guerrero Zazueta have been absolutely incredible! In September of 2016, I made my first FUE hair implant with him for approximately 1,500 hair grafts. Yesterday, June 2019, almost 3 years later, I made a follow-up treatment to implant approximately 350 hair grafts. I feel very fortunate to have had the opportunity to do my surgery with Dr. Guerrero, and I'm delighted with the results! I came to learn about Dr. Guerrero, because before me two other family members and one friend had already made their hair implant treatment with Dr. Guerrero and had been very happy with the implant treatment and results. Since then, additional friends and family members have made different treatments with him. Dr. Roberto Guerrero: Is probably the nicest doctor I have ever meet, he treats his patients like friends, and goes above and beyond to answer questions and make his patients feel comfortable. I have accompanied other relatives to do different hair treatments with him. Dr. Guerrero was always very knowledgable and had the best interest for his patients. He speaks English and Spanish, so it is easy to communicate with him. The Staff: Dr. Guerrero's team is professional and courteous, and does everything with the utmost attention before, during, and after the treatment. Everyone in Dr. Guerrero's team always greets you with warmth and attention. The Clinic Location: The clinic is very well located in a very nice and upscale region of Guadalajara, it is within 4-7 walking minutes from Hyatt Hotel. I was able to rent an Airbnb apartment within 5 min walking from the clinic. The clinic and the Airbnb apartment was near Plaza Andares shopping mall complex, so every day while I was in Guadalajara I could go down to the mall and eat at its several restaurants, I also felt safe walking from the apartment to the mall, to the clinic, and around the area. Dr. Guerrero's clinic is located inside a healthcare clinic building. The Elaen Clinic: The Elaen clinic is very nice, quiet, organized, and clean. It doesn't give you that hospital feeling, instead, it gives you a sense of warmth and modern professionalism. Both my first hair treatment in Sept 2016, and the one I did now in June 2019, were both painless. Before doing my first treatment, I had concerns about how many implanted hairs would remain after my surgery, and how many would grow. Once the first operation was complete, I believe it took me about 1 year to see the full results of the implant, and I was extremely satisfied with the results. I was delighted to have done the treatment because, in the three years since the first hair implant, I can see that my original natural hairline continued to recede, and the original hair continued to get thinner. While the hairs which were implanted at the front of my scalp remained. I feel that if it wasn't for the hair implant, I would have completely lost my front hairline. I was thrilled with the results, so now in June 2019, I decided to go in for a second treatment to fill in spots were my original natural hair had naturally fallen. During the second FUE operation, Dr. Guerrero was as detailed oriented as ever, and a perfectionist in working to make the hair implants look natural. In conclusion: I highly recommend the FUE hair implant treatment with Dr. Guerrero, and I'm delighted with the results. If you are planning on coming from the USA or another country to Guadalajara for the procedure, I recommend a hotel or AirBnB within walking distance, or near and around the Plaza Andares shopping mall. All the best!
27-Jun-2019
Dr Roberto and his team were amazing. True professionals, incredibly informative, very kind and go out of there way to go above and beyond to help you. The entire process was effortless. Honesty, there is nothing bad I can say from any standpoint. I would comeback in a heartbeat.
23-Jan-2019
21 más comentarios
Contactar Clínica
SELECCIONE UN TRATAMIENTO. OBTENGA UNA COTIZACIÓN GRATUITA.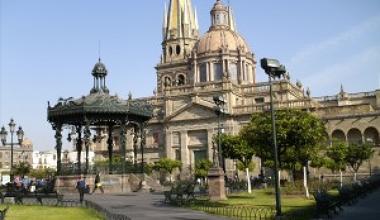 México Tips de Viaje
Idioma: Spanish
Moneda: Peso (MXN)
Clima: Average Daily Temp 75-82 F (24 to 28 °C)
Capital: Mexico City
Principales Aeropuertos: Mexico City International Airport
Electricidad: 127V 60Hz
Zona Horaria: UTC −6/Summer UTC −8
¿A dónde ir?
Guadalajara, Capital del Estado de Jalisco, es la segunda ciudad más grande e importante de México. Guadalajara es una ciudad llena de vida que cuenta con desarrollos contemporáneos, arquitectura colonial y una rica herencia cultural. Esta elegante metrópolis combina avenidas arboladas y hermosas fuentes que capturan su gran belleza – Ciudad de las Rosas, Ciudad de las Fuentes, Ciudad Real, Guadalajara es famosamente conocida como la Perla de Occidente.
Gastronomía
Usted encontrará oportunidades para experimentar la cultura y el arte en el centro de Guadalajara. La ciudad ofrece opera, teatros y tiendas reconocidas – aparte de restaurantes de clase mundial que sirven deliciosa fusión de gastronomía prehispánica e hispana.
¿Dónde dormir?
Escape a las modernas comodidades de Guadalajara. Cada hotel ofrece un oasis relajante en donde puede pasar una estadía revitalizante. Cuando planee su viaje, pregunte por actividades locales, asistencia de viaje y pida recomendaciones de restaurantes.
Reservar un hotel en Guadalajara, México